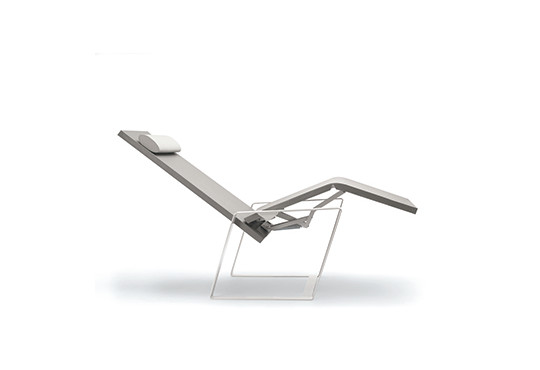 Karade: outdoor relax
Karade, the ultimate outdoor relax chair fits by its elegance, into any surrounding. The 'Karade' combines straight clean lines with an extraordinary and unique relax mechanism, allowing the chair to lock into any desired resting position. The innovative foam, especially developed for this chair, has its origins in the car manufacturing. It is a light stable and UV-proof foam retaining its optimal comfort features between temperatures of -35 to +80° C. Moreover, the material is weather and waterproof. NASA research has proven that a body in a weightless environment consistently aims for a neutral body position, the so called 'Zero Gravity Position'. As soon as the chair is placed in it's relax position, the synchronised movement of back, seat and leg rest allows the user to take immediately an optimal resting position. And this is exactly where the huge difference lies with all outdoor relax chairs available on the market today! Karade is the result of a captivating collaboration between Haelvoet NV and Mrs. Inge Van Gheel, of which the fruits will be shown for the first time during "Interieur 06" (www.interieur.be). Comfort is from now on also available for your garden!
With thanks to Haelvoet nv and 5X5 designregio Kortrijk.